Sandbridge Real Estate Net
Home
Helping you
NET

the home of your dreams.
Buyers Category
For Sale in Sandbridge Beach, Virginia! 313 Pike Circle. This affordable Sandbridge Beach home has 5 bedrooms, 3 baths and over 3,500 square feet. Great home that is right near back bay with dedicated access alongside lot. Located on a quiet cul-de-sac this is a great location for anyone. Only a short walk to the ocean, you will be enjoying sand between your toes within minutes. You can also enjoy the large in ground pool ideal for entertaining. This home is located on a...
348 Back Bay Crescent is a custom built home located on the Back Bay of Sandbridge Beach. Picture perfect home built in 2005 by Scott Shields. This home will leave your guests in awe. Nearly 4,000 square feet with 5 bedrooms and 4 and a half baths. The perfect size for your family with room for entertaining. The upgraded home has upgrades galore with an elevator, two master suites and 3 fireplaces. Located right on the Back Bay, it has...

Source: Zillow Digs TIPS & ADVICE / STORY / BY ZILLOW TEAM ON 8 JUN 2015 Do you dream of owning a vacation home, but find the idea of buying one too intimidating? It's actually easier than you may think. Here's a guide to help you analyze your options. 1. Match housing choices to your lifestyle Many people assume they must own a primary residence before owning a vacation home, but this isn't a rule you must follow. What's really important is matching your housing choices to your...
BRAND NEW LISTING IN SANDBRIDGE BEACH! 2333 Sandfiddler road is located on the quiet North End. This classic beach cottage is only steps away from the ocean location right on Sandfiddler Road. 1,858 square feet with 5 bedrooms and 2 and a half baths. Great features including high ceilings, spacious sun room and first floor master suite. This cottage has a large pool that is fenced in with a great covered patio area perfect for indoor/outdoor living. Over $50,000 in annual...

Mortgage rates for 30-year fixed mortgages rose this week, with the current rate borrowers were quoted on Zillow Mortgages at 3.96 percent, up 18 basis points from the same time last week. The 30-year fixed mortgage rate rose to 3.98 percent on Friday, then hovered there before settling at the current rate on Tuesday. "Rates jumped sharply last week – first on the heels of news that the European Central Bank's bond buying program may end sooner than expected, then an exceptionally strong U.S. jobs...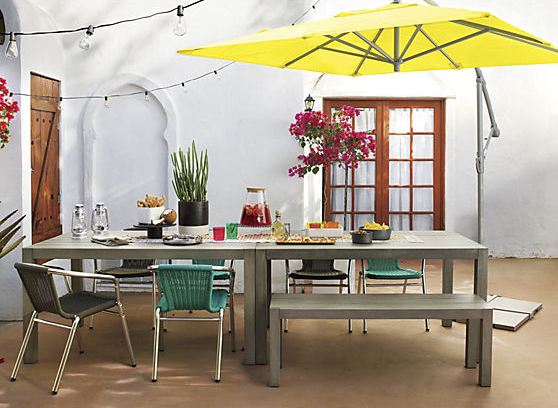 You've got your sunscreen out, your watermelon sliced, and your grill smoking. No matter if you're on a balcony, patio or urban roof deck, outdoor entertaining is the best. While you're gathering supplies to enjoy a lemonade or ice cold brew with friends and neighbors, pick up a few decorative add-ons to enhance your outdoor space. Setting the mood for a party in the sun or under the stars is easy with these tips and treasures. Classic bistro lights seal the deal Hang a strand or two of Edison...