Sandbridge Real Estate Net
Home
Helping you
NET

the home of your dreams.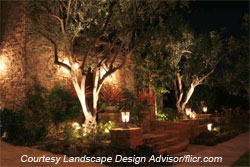 One night, when the weather is cooperating, take a walk around your home.  What do you see? If the answer is nothing, then turn the lights on! Adequate outdoor lighting is sometimes overlooked by home builders. Even a small investment in lights can provide safety, security and beauty. And if you are considering selling, you'll want to show off your home in the best possible light.
Safe from Accidents
Patches of ice. A tree root. A child's toy. Those three things are among the reasons you need to have some degree of lighting on the outside of your home. It seems like it's always the case that when you need something the most, you don't have it. Lighting walkways with path lights and post lights can ensure the safety of your family and guests at all times.
Securing the Perimeter
Being able to see outside at night from the safety of your home can bring some peace of mind. Using strategically placed floodlights can light up large areas. You can add motion sensors and timers to automate when the lights come on and go off.
Take Pride
If you're proud of your home and want to show it off, light it up. Here, the goal isn't to provide widespread illumination, but to put the best features of the property in the spotlight.  One common design idea is to decoratively light living areas like patios or pools. Backyard play areas can be lit so the fun can continue for the kids after sundown. Lights planted at the base of trees can be an attractive way to show off your property.


Powerful Options
As you survey your outdoor lighting needs, keep in mind you have a variety of options on powering the lights. Solar lets the Sun do the work of providing power during the night. Line voltage power is 120 volts, just like your appliances. It requires more extensive knowledge of working with electricity, and you may want the help of a professional electrician. Low-voltage lighting is just 12 volts, more energy efficient and easier to install.
Resources
The internet provides some great resources for people interested in outdoor lighting projects. Here are several to get you started.
Outdoor lighting is like any other investment in
your home
. It will improve your quality of life, as well as create added value when the
time comes to sell
.
This blog is maintained by Michael of Kim Hughes & Company.