Sandbridge Real Estate Net
Home
Helping you
NET

the home of your dreams.
Landscape & Garden Category
Keeping up regular maintenance on your wood deck can help assure it will last throughout the years. Spotting and fixing some small problems before they become a larger problem is key. Here a few maintenance tips to keep your deck looking good! Keep it clean and dry Leaf mold, spills, and tracked mud diminish your deck's good looks and can attract unwanted flies and insects. Promptly scrub away stuck-on debris with warm water and wood-safe oxygen bleach (mixed as directed on the...
You've got your sunscreen out, your watermelon sliced, and your grill smoking. No matter if you're on a balcony, patio or urban roof deck, outdoor entertaining is the best. While you're gathering supplies to enjoy a lemonade or ice cold brew with friends and neighbors, pick up a few decorative add-ons to enhance your outdoor space. Setting the mood for a party in the sun or under the stars is easy with these tips and treasures. Classic bistro lights seal the deal Hang a strand or two of Edison...
Fall is here and that means winter is not far behind. Before the weather gets cold, get ahead of the game with this simple Fall cleaning checklist. This will save you time getting the necessities done so your home is ready for all those Fall decorations. Outside The House Time to come inside for winter! Outside the house tend to these autumn chores: Clean and store patio furniture, umbrellas, children's summer toys. Touch up paint on trim, railings and decks. Use a wire brush...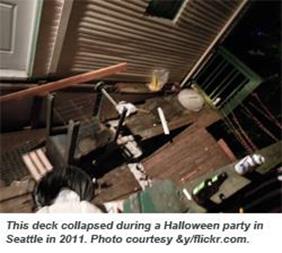 As we settle into spring, many people are ready to move the party outside. Mild temperatures, warm sunshine and the blooms of the Sandbridge season are a siren song to enjoy living outdoors. But, if that means sitting out on a deck, take a few minutes to make sure you're safe. The estimates vary, but a significant portion of the decks on American homes were not built safely. And every spring and summer, there are stories in the media about decks collapsing....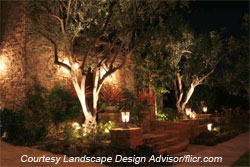 One night, when the weather is cooperating, take a walk around your home.  What do you see? If the answer is nothing, then turn the lights on! Adequate outdoor lighting is sometimes overlooked by home builders. Even a small investment in lights can provide safety, security and beauty. And if you are considering selling, you'll want to show off your home in the best possible light. Safe from Accidents Patches of ice. A tree root. A child's toy. Those three things are among...
If you're already tired of winter and it's drab appearance, you might be able to cheer yourself up by planning ahead for spring landscaping and gardening. Getting a head start on these springtime projects can save you time and money, and of course, your property will enjoy a boost in its beautification. So, let's take a look at some things you can get to work considering today. First off, if you're planning to have a garden this spring, you may want...