Sandbridge Real Estate Net
Home
Helping you
NET

the home of your dreams.
As we settle into spring, many people are ready to move the party outside. Mild temperatures, warm sunshine and the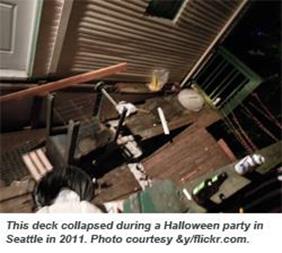 blooms of the Sandbridge season are a siren song to enjoy living outdoors. But, if that means sitting out on a deck, take a few minutes to make sure you're safe.
The estimates vary, but a significant portion of the decks on American homes were not built safely. And every spring and summer, there are stories in the media about decks collapsing. Before you entertain any guests on your outdoor deck, you'll want to make sure that it's safe and sturdy. Any sway or movement of the deck, railings or stairway, needs to be checked. You can also look for signs of rot, especially where the deck attaches to the house and where two deck boards meet over a joist. The National American Deck and Railing Association offers a complete guide on checking your deck here [pdf].
If your beach home is a special event property your deck will need to meet more rigorous standards to safely handle larger groups. All Siebert Realty rental homes are required to have annual deck inspections for the well being of guests and owners.
A safe, well-maintained deck can add a lot of value to your Sandbridge home. But, only if it's safe. If you have any doubts at all, call a professional carpenter. Only a carpenter can ensure the deck is still securely attached to your Sandbridge home, and can advise about any needed repairs. And if you need any advice about selling your home, please be sure to contact me.