Sandbridge Real Estate Net
Home
Helping you
NET

the home of your dreams.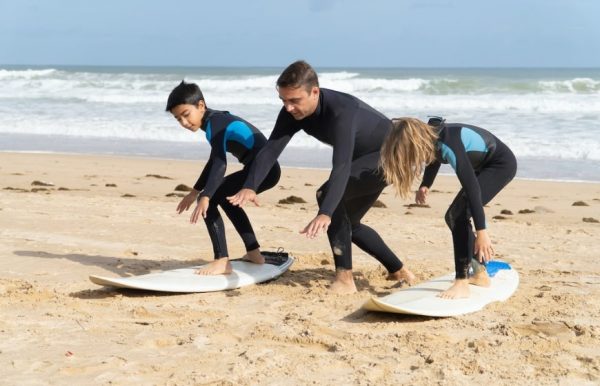 Sandbridge Beach is a must-visit destination for a family trip to Virginia Beach. With miles of pristine beaches, abundant wildlife, and various outdoor activities at Sandbridge Beach, it's no wonder Sandbridge is a popular destination for families looking to escape the hustle and bustle of city life. It's the perfect place to make unforgettable memories with your kids.
Here are the top outdoor activities to enjoy with your kids while visiting Sandbridge Beach.
6 Must-Try Outdoor Activities at Sandbridge Beach
Building Sandcastles
Building sandcastles is a classic beach activity that kids of all ages enjoy. The soft sand and gentle waves make Sandbridge Beach the perfect place for building sandcastles. Bring along some sand toys and let your kids' imaginations run wild.
Surfing and Boogie Boarding
If your kids are older and looking for a more thrilling beach experience, they would enjoy surfing or boogie boarding. The beach's waves are ideal for these activities, and there are plenty of local surf shops where you can rent equipment. Your kids will love catching waves and feeling the rush of the ocean.
Swimming
Kids love to swim, and the clear waters of Sandbridge Beach are perfect for splashing around. Be sure to keep an eye on your kids at all times, and watch out for any rip currents. If your kids are strong swimmers, consider renting snorkeling gear and exploring the underwater world.
Dolphin Watching
Sandbridge Beach is home to a variety of marine life, including dolphins. Take a dolphin-watching tour with one of the local boat tour operators to see these amazing creatures up close. Your kids will love spotting dolphins swimming and jumping in the wild.
Exploring Back Bay Wildlife Refuge
The nearby Back Bay Wildlife Refuge is great for kids to explore nature. There are several hiking and biking trails and a visitor center where kids can learn about the local wildlife. Your kids will love seeing birds, turtles, and other animals in their natural habitats.
Fishing
Kids love to fish, and Sandbridge Beach is a great place to learn how. You can rent equipment and book a fishing charter with a local guide to increase your chances of catching a big one! Your kids will love the thrill of catching a fish and seeing what they can reel in. You might even catch your dinner!
We Sell Sandbridge!
Do you want to buy or sell a home in Sandbridge? We can help you find the home you're looking for or sell your home quickly and for more. Have a vacation rental to manage? Siebert Realty is the oldest & largest management company serving Sandbridge.
Please call (757) 355-2233 or click here for our contact page. We will get back to you.
Thanks for visiting!