Sandbridge Real Estate Net
Home
Helping you
NET

the home of your dreams.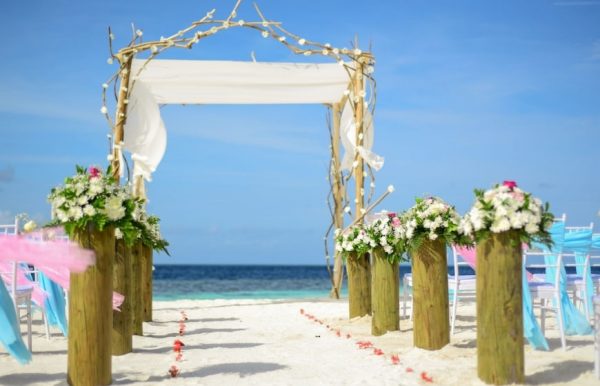 Couples seeking a romantic and unforgettable wedding experience should consider the beautiful beach wedding venues in Sandbridge. Sandbridge offers the perfect backdrop for your big day, with miles of immaculate coastline, radiant sunshine, and breathtaking sunsets.
Here are the top beach wedding venues in Sandbridge that will make your dream wedding a reality.
Top 5 Beach Wedding Venues in Sandbridge
1. Country Villa Weddings & Events
2252 Indian River Road Virginia Beach – (757) 515-9313
Country Villa Weddings & Events, located near Sandbridge Beach in Virginia Beach, is an intimate indoor/outdoor wedding venue surrounded by lush greenery, blooming flowers, and tall trees on four acres of private property. It doesn't matter if you want a casual or elegant wedding. The venue provides a charming and versatile space that can accommodate any wish, making it perfect for intimate ceremonies or grand celebrations.
2. Blue Pete's Restaurant
1400 N Muddy Creek Rd – (757) 426-2278
Blue Pete's Restaurant in Virginia Beach is an excellent choice for a stunning waterfront wedding venue. With indoor and outdoor spaces available, couples can exchange vows at the water's edge or in the elegant interior that will create cherished memories for a lifetime. The restaurant provides an exquisite dining experience, outstanding service, and a charming ambiance to put a perfect cap on your big day.
3. Virginia Aquarium & Marine Science Center
717 General Booth Blvd. – (757) 385-3474
The Virginia Aquarium Marine & Science Center in Virginia Beach is an impressive wedding venue with adaptable configurations, capable of hosting weddings of all sizes. From rehearsal dinners in the Sharks & Sea Turtles Gallery to exchanging vows on the Outside Marsh Deck, the aquarium offers a unique experience for guests. The incredible sea life adds to the unforgettable experience.
4. The Attic at Waterman's
415 Atlantic Ave. – (757) 963-2626
Perched along the Virginia Beach Oceanfront, The Attic at Waterman's boasts an elegant, rustic coastal charm with panoramic Atlantic Ocean views. The neutral interior decor, hardwood floors, and vaulted ceilings with exposed wood beams provide the perfect backdrop for any event. The mouthwatering menu features sustainable, coastal cuisine.
5. Military Aviation Museum
1341 Princess Anne Rd. – (757) 721-7767
The Military Aviation Museum in Virginia Beach, VA, is a distinctive wedding venue serving Hampton Roads. With a presence in the wedding industry since 2008, the museum offers a unique backdrop for couples seeking a memorable wedding experience.
We Sell Sandbridge!
Do you want to buy or sell a home in Sandbridge? We can help you find the home you're looking for or sell your home quickly and for more. Have a vacation rental to manage? Siebert Realty is the oldest & largest management company serving Sandbridge.
Please call (757) 355-2233 or click here for our contact page. We will get back to you.
Thanks for visiting!