Sandbridge Real Estate Net
Home
Helping you
NET

the home of your dreams.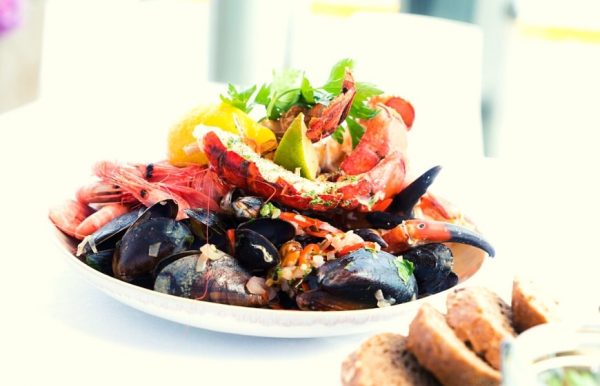 You're in for a treat if you're a seafood lover traveling to Sandbridge Beach in Virginia. As a coastal town, it is a great place to find fresh seafood. This post will cover some of the top-rated seafood restaurants near Sandbridge Beach VA.
8 Great Seafood Restaurants near Sandbridge Beach VA
Captain George's Seafood Restaurant
1956 Laskin Rd – (757) 428-3494
Captain George's Seafood Restaurant is a popular restaurant with a casual atmosphere. They have been serving dishes made with fresh seafood for over 40 years. This restaurant offers an extensive seafood buffet featuring crab legs, shrimp, oysters, clams, mussels, fish, soups, salads, and desserts.
Blue Pete's Restaurant
1400 N Muddy Creek Rd – (757) 426-2278
Blue Pete's Restaurant is a favorite among locals and visitors. They serve fresh and local seafood in a cozy, rustic atmosphere. Their menu offers classic seafood dishes like crab cakes, shrimp and grits, and the day's freshest catches.
Baja Restaurant
3701 Sandpiper Rd #4325 – (757) 426-7748
Baja Restaurant is a casual spot that offers a variety of seafood dishes. Diners can enjoy options like fish tacos, crab cakes, and shrimp scampi. Their outdoor seating area is perfect for enjoying a meal with a water view.
Margie and Ray's Crabhouse
1240 Sandbridge Rd – (757) 426-2397
Margie and Ray's Crabhouse is a classic seafood shack specializing in crab legs and other dishes. They also offer an exceptional selection of beers on tap. It is a great place to drink a few beers and enjoy delicious seafood.
Sandbridge Island Restaurant
205 Sandbridge Rd – (757) 721-2899
Sandbridge Island Restaurant is the perfect spot for seafood lovers looking for a good meal. They provide various seafood items, such as pasta dishes, lobster tails, and scallops. They also have an excellent selection of wines and beverages to enjoy with your meal.
The Surf Club Ocean Grille
5700 Atlantic Ave – (757) 425-5699
The Surf Club Ocean Grille offers fine dining in a casual setting. It is the perfect place to go if you want upscale seafood dishes without all the fuss. They also offer a nice range of non-seafood menu items. Their menu also changes seasonally to offer the freshest ingredients available.
Simply Steamed
2545 Sandpiper Rd – (757) 301-8553
Simply Steamed specializes in steamed seafood dishes. Their menu features steamed clams, mussels, shrimp, and classic sides like hush puppies and coleslaw. It's an excellent place for a comforting meal because of the laid-back ambiance and outside dining.
Blue Seafood & Spirits
2181 Upton Dr #420 – (757) 689-5395
Blue Seafood & Spirits is a popular seafood restaurant with a modern dining experience. The menu has fresh seafood dishes like oysters, shrimp, scallops, and fish. They also have a great selection of wines and cocktails to accompany your meal.
We Sell Sandbridge!
Do you want to buy or sell a home in Sandbridge? We can help you find the home you're looking for or sell your home quickly and for more. Have a vacation rental to manage? Siebert Realty is the oldest & largest management company serving Sandbridge.
Please call (757) 355-2233 or click here for our contact page. We will get back to you.
Thanks for visiting!