Sandbridge Real Estate Net
Home
Helping you
NET

the home of your dreams.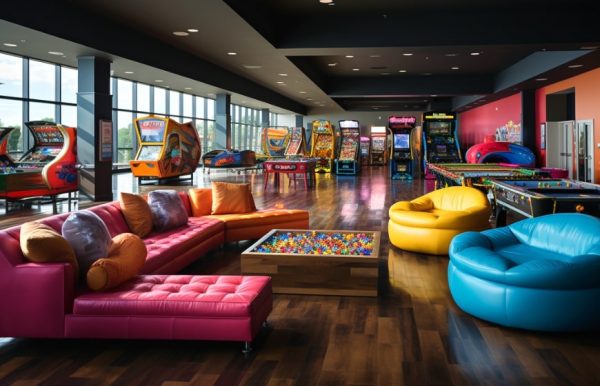 People come from all over to spend time in Sandbridge Beach, Virginia. But there's more to this Sandbridge than the beautiful beaches and peaceful environment. People also come for all the fun things to do. This post will cover some of the top entertainment centers around Sandbridge Beach.
Sandbridge Real Estate Market Watch
As of August 2023, the median list price per square foot of homes in Sandbridge was $385. However, real estate data is always changing. Visit our site for more information.
Check Out These Games and Entertainment Centers Around Sandbridge Beach
2212 Atlantic Ave – (757) 502-8810
Are you looking for a little fun and entertainment away from the beach? Flipper McCoy's Family Entertainment Center is a great option. They have a wide selection of classic arcade games, such as Donkey Kong, Pacman, and Pinball. You can also play Skee-Ball, laser tag, and billiards. Players can also earn points that are redeemable for prizes. The facility is clean, and the staff is friendly, perfect for your enjoyment and relaxation.
4621 Columbus St Ste 100 – (757) 678-8666
Apex Entertainment has so much to offer. They have a great selection of VR games you can try. You can also enjoy go-kart racing at their track. They even have challenging escape rooms you can solve with your friends. Get crazy with their countless varieties of games like bowling, video games, and even ax-throwing. After all the fun, you can relax and enjoy a good meal. They have a menu full of great food and beverage options.
701 Lynnhaven Pkwy Ste G19 – (757) 785-3500
Dave & Busters is one of the top names in fun and entertainment. Their Virginia Beach location offers a range of exciting and unique arcade games. They also have VR and billiards. You can also expect a great food menu with burgers, fries, pizza, and more. It is a great place for adults to have a few drinks while they unwind with some games.
We Sell Sandbridge!
Whether you want to buy or sell a home in Sandbridge or manage a vacation rental, get help today from Siebert Realty. We serve Sandbridge, VA, buyers, sellers, and investors. Reach out now to learn more about our services.
Please call (757) 355-2233 or click here for our contact page. We will get back to you.
Thanks for visiting!