Sandbridge Real Estate Net
Home
Helping you
NET

the home of your dreams.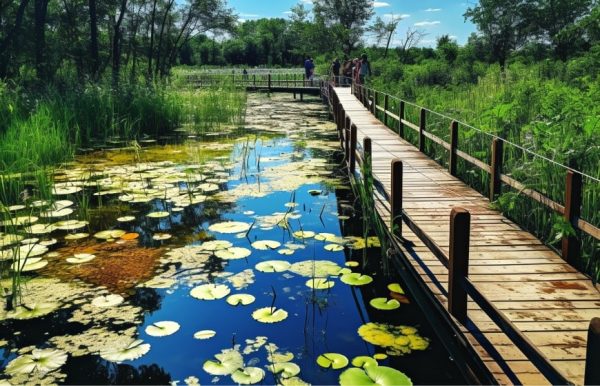 In Virginia Beach, Back Bay National Wildlife Refuge is a paradise for nature enthusiasts and kayakers. With its serene waters, pristine marshes, and diverse ecosystems, the refuge offers a unique haven for wildlife and outdoor lovers. Among the activities available, it stands out as a perfect place for kayaking.
Let's take a closer look at kayaking in Back Bay National Wildlife Refuge.
Sandbridge Real Estate Market Watch
As of September 2023, the median sale price of homes in Sandbridge, VA, was $881,000. However, real estate trends can change quickly. Contact Charlie Kelly for help buying and selling homes in the Sandbridge Beach area.
Kayaking at Back Bay National Wildlife Refuge
Scenic Waterways
Back Bay is a large and shallow bay that surrounds the refuge. It includes numerous creeks and canals. These picturesque waterways offer the perfect setting for kayaking. Paddling through these serene waters, you'll find yourself immersed in the stunning beauty of the natural surroundings.
Wildlife Viewing
Back Bay National Wildlife Refuge is home to diverse wildlife. It has migratory birds, waterfowl, and other creatures. While kayaking, you'll have the opportunity to observe these animals in their natural habitat. Birdwatchers, in particular, will appreciate the numerous bird species that call the refuge home.
Peace and Tranquility
The refuge is known for its peaceful and remote setting. Kayaking here provides a sense of solitude and a chance to escape from the hustle and bustle of daily life. The quiet and remote setting allows you to unwind in the beauty of nature.
Diverse Ecosystems
Back Bay National Wildlife Refuge boasts diverse ecosystems, including marshes, woodlands, and dunes. While kayaking, you can explore and experience these different habitats, each with its unique charm and characteristics.
Seasonal Variations
The refuge offers different experiences throughout the year. Spring and fall are popular for bird migration, bringing a flurry of avian activity. Summer, on the other hand, provides opportunities for waterfowl and other wildlife viewing.
Check our showcased review of Back Bay National Wildlife Refuge
"This is a great place to explore by kayak. It is very accessible, and there is so much to see. Viewing all the wildlife is a real treat. It is also a very relaxing place. Definitely worth checking out if you are near Sandbridge." DS, 5 Stars
We Sell Sandbridge!
Do you want to buy or sell a home in Sandbridge? We can help you find the home you're looking for or sell your home quickly and for more. Have a vacation rental to manage? Siebert Realty is the oldest & largest management company serving Sandbridge.
Please call (757) 355-2233 or simply click here for our contact page. We will get back to you.
Thanks for visiting!